Chanel Rouge Coco Shine in Candeur and Chance - review and swatches
Chanel Rouge Coco Shine
"
ROUGE COCO SHINE Hydrating Sheer Lipshine provides lasting moisturizing shine in a water-light texture. The formula glides on for easy application, and a unique HYDRATENDRE complex hydrates and softens lips, giving them a healthier and fuller appearance. Available in a complete range of shades, from delicate beiges to dazzling berries, with a hint of shimmer to enhance a glossy finish.
" (Source: Chanel.com)
The first thing that came in my mind when I first saw these was the price. That's why it took me so long to get my hands on these. I redeemed my first Chanel makeup (which includes the Rouge Coco Shine) with my optimum points. LOL! But I also bit the bullet and purchased another shade of the Rouge Coco Shine. Because.. because.. because.. The texture is.. amazing. Simply. But won't purchase another shade.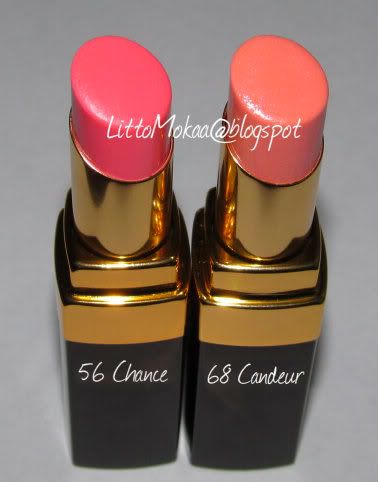 I go
weaaaaak
for designer lipstick, especially the ones with those "ohmagash" packaging. But the price is very "ohmagash" too. Sometimes I do think I'm super crazy to cave in so I do not tend to show it to the people around me, I actually
hide
them. I'm too afraid that they will ever know the price of these and look me with those super killing wide eyes and going like "what the f...?" Now I think about it.. Ugh makes me feel bad as hell, but wtv every girl should have a designer lippie in their collection right? XD
Okay now onto the infamous Rouge coco shine! Let's start by the texture.. "
Water- light texture
"? Oh yes Madame! It is very light but yet very hydrating on my lips too. It's really not sticky or greasy and gives out a very nice subtle shine to your lips (there's fine particle of shimmers) , but not the high lipgloss shine. Because of it's light texture, you can probably guess that it means that it wears off easily. It goes on sheer, but you can layer it in order to have a more opaque color. It does accentuate your dry lip so make sure to exfoliate!
Light layer of Rouge Coco Shine in Candeur (Spring 2012 collection)
(Please note that I have pigmented lips)
The two shades that I got are 68 Candeur and 56 Chance. Candeur is a light neutral pastel pink-beige color with micro shimmers from the spring 2012 collection. Unfortunately, I have no idea if this color is going to become permanent. I find that this is a great everyday color when you just want something delicate. I've been reaching it a lot for my everyday look because it's very subtle and it freshens up my look and even though the color is very light, it doesn't wash me out.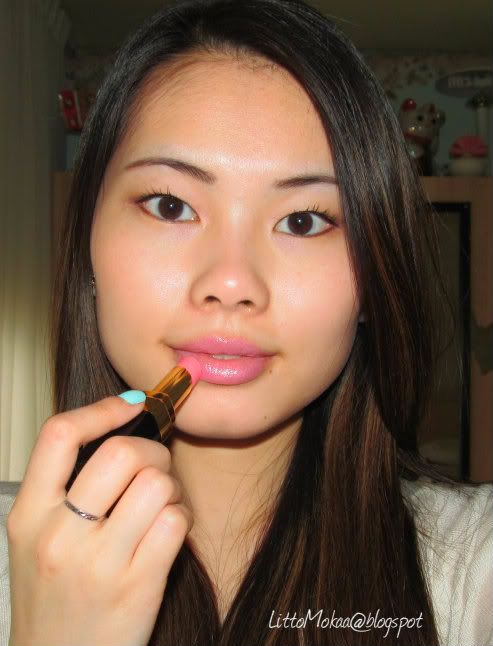 Rouge Coco Shine in Chance
Chance is a brighter pink - almost a bubble gum pink as a lot of people described. This color is great whenever you feel like a adding light pop of color in your look. You can also layer it so the color comes out brighter and opaque. I like to reach for this when I feel like my look is too plain but when applied lightly, it's a very nice everyday color too :) This shade has micro shimmers in it too but they are less apparent.
I really love these two colors but my favorite for now is Candeur, because it reminds me of spring/summer and Chance reminds me more of fall/winter for some reasons. Maybe it's because I don't like to wear light colors or nude lips in winter since I'm already as pale as Snow White in winter LOL and it makes me look sick. Chance is definitely more appropriate in winter for me because it brightens up my super pale skin :)
Would I repurchase? For the price, no. I'd rather splurge on Yves Saint-Laurent glossy stains (vernis à lèvre), because they are worth the price (in my opinion!), but it's still nice to have one in your collection... ;)
Have a great week,
Love,
-S