Kiehl's Clearly Corrective Dark Spot Solution + Powerful-Strength Line-Reducing Concentrate review
Kiehl's Clearly Corrective Dark Spot Solution
What it is: "
Clinically-Demonstrated* to Rapidly Help Reduce the Look of Dark Spots and Brighten Skin Tone. With a Potent Complex of Activated CTM, White Birch and Peony Extracts.
*Results based upon a clinical study of upper layers of the skin.
Activated C
An ingredient derived from vitamin C that is well known for its brightening properties.
White Birch Extract
A sugar derived ingredient, known for its hydrating properties. Formulated with Activated C and Peony extract, it helps enhance skin clarity and luminosity.
Peony Extract
Called the "King of Flowers" in China, when combined with Activated C and White Birch Extract, it will help provide a brightened skin tone.
" (Source: Kiehls.ca)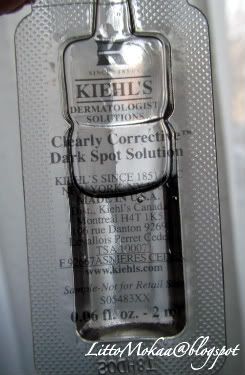 I received a sample of this and by using 2 drops of it 2 times a day (am/pm), it lasted me a good 2 week and a half. The texture is a light clear serum that doesn't feel sticky. It sinks into the skin very quickly without leaving residue behind. I don't have much dark spots - only some freckles on my cheekbones due to sun damage when I was younger. After using this product, I didn't see much difference concerning my freckles - it didn't seem that it was lighter or anything (probably because these sun damages were too old?). However, I did notice that my overall complexion was a bit brighter and luminous but nothing that made me go "wow". I don't have any acne scars, so I can't tell if it fades them or not, but the lady that helped me said that she swears by this because the Powerful-Strenght Line-reducing concentrate made her skin break out. I think that this is more for people that are looking to lighten their acne scars and brighten up their complexion at the same time.
Powerful-Strength Line-Reducing Concentrate
What it is: "
This Powerful-Strength Line-Reducing Concentrate is formulated with a high concentration of 10.5% Pure Vitamin C (L-Ascorbic Acid) known for its affinity with skin and its powerful ability to improve the appearance of skin aging. With continued use over time, this treatment has a significant and progressive effect on marionette lines around the mouth and sub-orbital wrinkles in the eye area as well as other facial lines and wrinkles. In addition, skin shows a noticeable improvement in texture and radiance
." (Source: Kiehls.ca)
The first time I tried it was in-store, when I had a skin consultation. When the SA applied it to my face (with some other products), it left a natural dewy glow. I was sold, but wasn't sure if I wanted to buy it since it was my first time trying it. The super nice SA gave me some samples and this product was included. (By the way.. Kiehl's gives out super generous samples and they last you a long time!) The first time I used it, some small pimples appeared around my nose area so I didn't use it anymore and threw it away (in was in a sachet form). However, from the 1st usage, I could see a difference. Less redness on my cheeks and around my nose and a more radiant complexion. During winter, Kiehl's had a deluxe sample giveaway on their facebook page and I was lucky enough to receive one of them. This time, the powerful strenght line-reducing concentrate came in a mini opaque brown tube (along with a mini midnight recovery concentrate bottle). I decided to give it another go and I've been using it for more than a month and a half now. This time, it didn't give me pimples, it just made my skin better and better. The texture is much more thicker than the clearly corrective serum, it's a milky light cream type. I like it to rub it between my fingers before applying it to my face (to make sure that the Vit C is activated! =P). It gives a slightly warm sensation when applied and it doesn't ball up under other products. I think that the reason why it didn't work out the first time was because of the packaging. Probably the vitamin C was not stable in the sachet form versus the brown opaque mini tube form, where the product is protected from the light just like the regular bottle. I can definitely see a big improvement since I've been using it. My bumpy forehead (due to old acne scars, milia and dehydration..) got a lot smoother and doesn't appear dull anymore. It didn't make my eczema worse too! This is
NOT
a serum/treatment that is for hydration. In my experience, it improved the texture of my skin and it gives a extra boost to let the natural glow/radiance shine through (and no.. I don't shine like if I have oily skin!) It claims to be line-reducing too but I can't say much about it since I don't have lines yet.. But it's never too early to prevent right? :P
Overall, these two products are worth trying out, depending of your main concerns. I bought the full size of the Powerful Strength Line-Reducing concentrate during their F&F sale because I've been able to test it out fully and I am more than happy with the results. I've been testing out the eye-cream from the same line too and I've been liking it a lot too! But this will be reviews in another post =P
What's your favorite serum? Have you ever tried these products? :)
Have a great week!
Love,
-S